Nothing sounds more appealing right now than being beachside, inside old wine tanks and with crystal clear waters footsteps away. We chatted to Nikos Karaflos, Imagineer and CEO of Dexamenes Seaside Hotel, an abandoned wine factory transformed into a seaside hotel in Amaliada, Greece.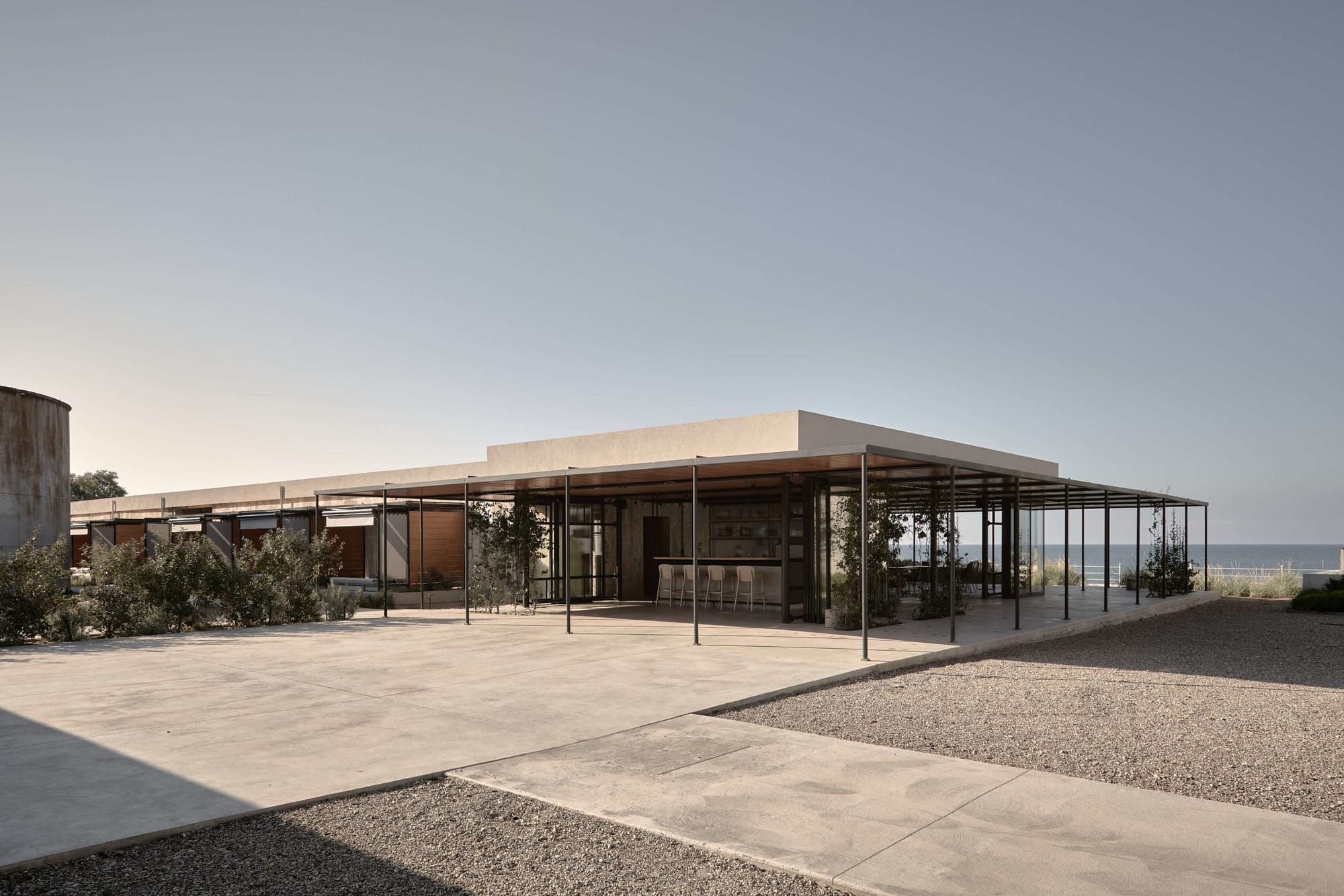 What inspired the creation of Dexamenes?
The Dexamenes Seaside Hotel is a monument of Greek trading history. The original building, which dates back to the early 20th Century, is a result of the collapse of the currant (yes, fruit) trade driving the transformation of unsold currants stock into wine and the development of wineries and distilleries throughout Greece. The winery that now houses Dexamenes was built by the sea so that the wine could be pumped directly onto ships.
By the 21st Century, inspired by the building's rich history, I decided to renovate the ultimately derelict structure into a coastal hotel – as I not only felt that the authenticity of the site was stunning, but the preservation and historic value was really important.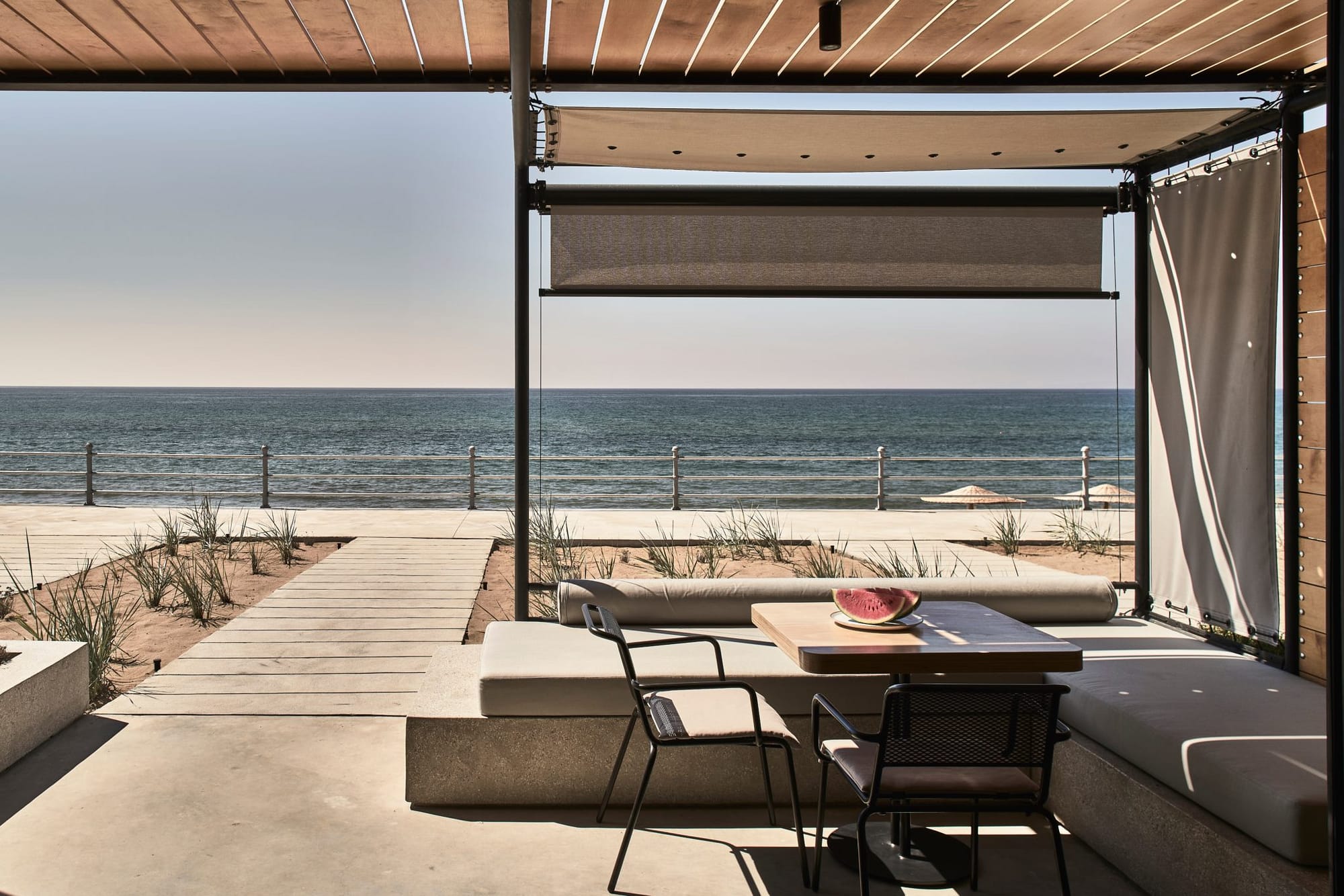 Dexamenes embraces a rough-luxe aesthetic, where did you draw inspiration from?
Working with design practice K-studio, I drew inspiration from the layouts of the wine tanks as hotel rooms as I felt they would be a unique experience – waking up in a wine tank suite facing the sea. The design process was inspired and guided by the buildings themselves, by sensitively preserving whilst adding new additions that complement the brutalist aesthetic. One of the main aspirations was to instil sustainability through upcycling as many materials as possible. Embracing this raw aesthetic without introducing any elements or materials – concrete, steel timber and engineered glass define the overall palette.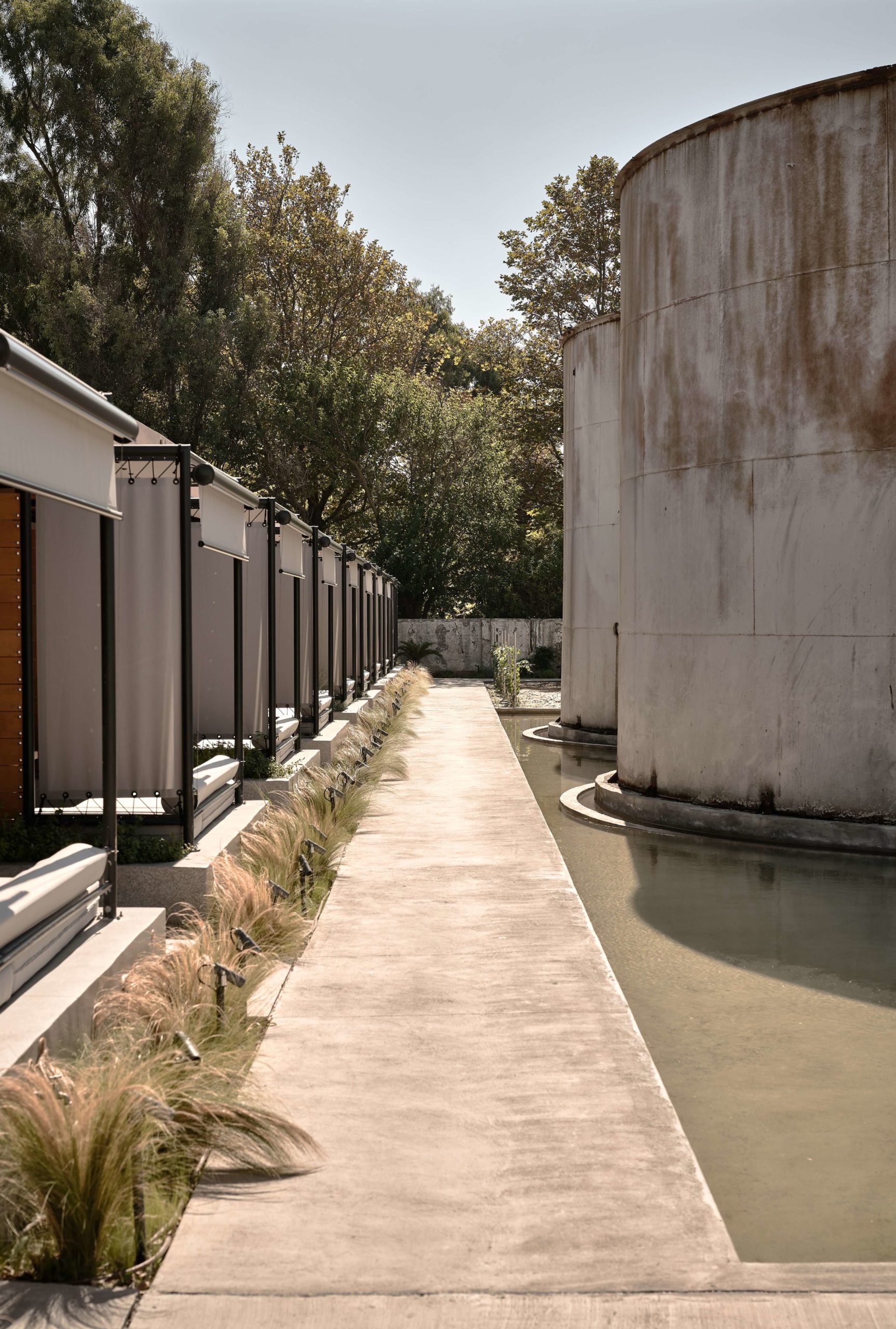 What can visitors expect from their food and drink experience at Dexamenes?
At Dexamenes, food and drink is characterised by three words: Local, Seasonal, Conscious. We search meticulously for the sources of where our food comes from and take inspiration from what the Hippocrates advise which essentially says – "We Are What We Eat."
Living in an area that is mainly agricultural, we believe in the significance of building communities, meeting young locals that farm and produce and prefer local, young and conscious farmers – voting against the cruel practices of the massive food industry.
Our kitchen prepares a variety of choices from breakfast to dinner that varies from degustation menus to hyperlocal meals with traditional references, putting the dietary preferences of each guest at the highest priority.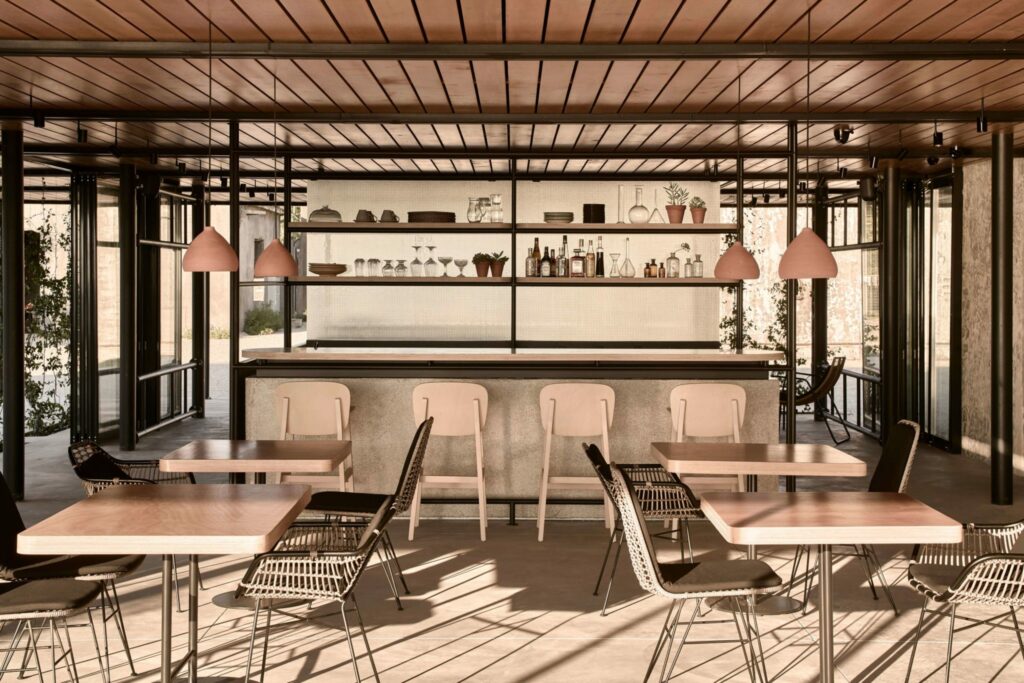 In 2021, at Kobu we believe travellers will want to get to know their destinations and local neighbourhoods on a deeper level. How might Dexemenes foster this shift?
We encourage our guests to get to know the local culture of the area on a deeper level. From advising to visit the sites of high archaeological interest such as Ancient Olympia and the birthplace of the Olympic Games to visiting traditional villages, eating like a local or participating in one of our cooking lessons.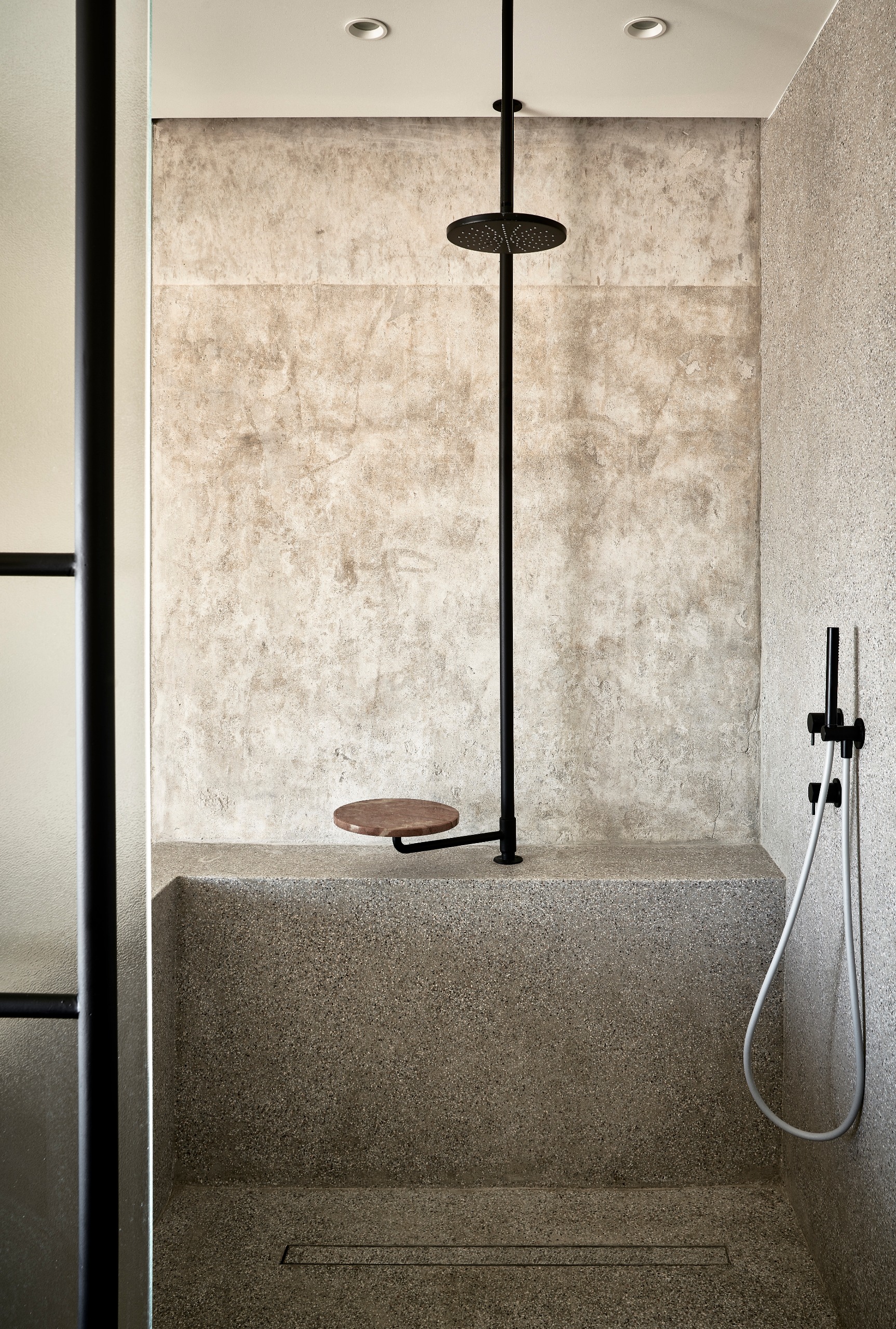 The Kobu team are always searching for inspiration and hidden gems – what are your Greece recommendations?
Peloponnese is a place in Greece that is off the beaten track and quite undiscovered. I would suggest a tour around the peninsula that combines beaches, traditional villages in the mountains, castles and very historical archaeological sites.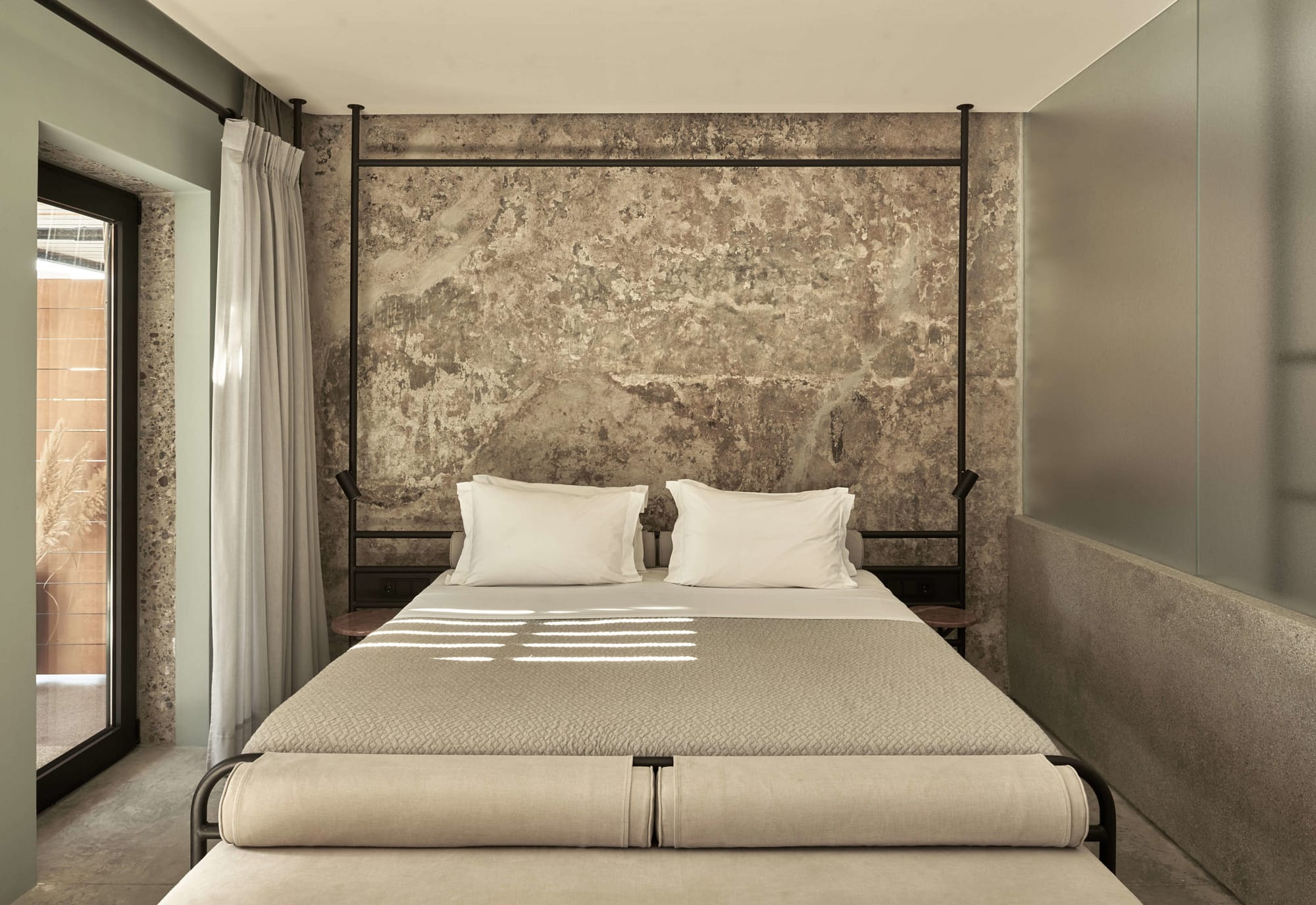 How do you see the current market and what are the plans for Dexamenes in the near future?
Contemporary travellers seek; authentic experiences; to be reconnected to nature; themselves; and have more meaningful 'unpretentious' luxury experiences. Dexamenes plans to offer a variety of new experiences that tap into these themes; from spiritual experiences through a contemporary healing place with sound baths and other therapies; programs for digital nomads or for people that are interested in "working from nature" rather than "working from home"; to expanding our collaboration with local conscious farmers, so that guests can visit the farms and get deeply involved in activities related to nature. We look forward to inviting the Kobu travellers!